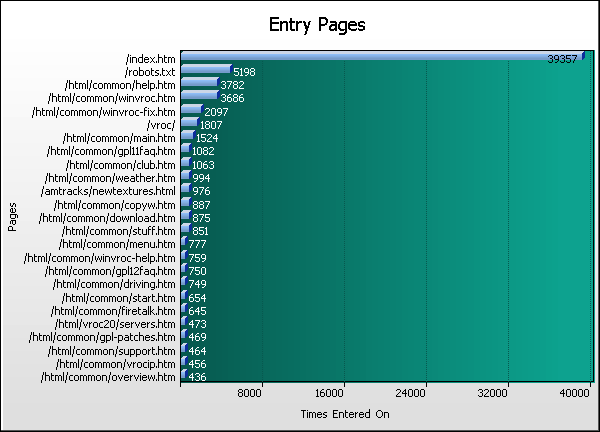 Entry Pages
Pages
Times Entered On
Errors
1
/index.htm
39,357
8
2
/robots.txt
5,198
5,485
3
/html/common/help.htm
3,782
0
4
/html/common/winvroc.htm
3,686
2
5
/html/common/winvroc-fix.htm
2,097
3
6
/vroc/
1,807
2,905
7
/html/common/main.htm
1,524
6
8
/html/common/gpl11faq.htm
1,082
0
9
/html/common/club.htm
1,063
0
10
/html/common/weather.htm
994
0
11
/amtracks/newtextures.html
976
1,254
12
/html/common/copyw.htm
887
4
13
/html/common/download.htm
875
0
14
/html/common/stuff.htm
851
0
15
/html/common/menu.htm
777
33
16
/html/common/winvroc-help.htm
759
0
17
/html/common/gpl12faq.htm
750
0
18
/html/common/driving.htm
749
0
19
/html/common/start.htm
654
2
20
/html/common/firetalk.htm
645
0
21
/html/vroc20/servers.htm
473
0
22
/html/common/gpl-patches.htm
469
0
23
/html/common/support.htm
464
0
24
/html/common/vrocip.htm
456
2
25
/html/common/overview.htm
436
0
26
/download/readme11.txt
428
1
27
/html/common/core-notes.htm
414
0
28
/html/common/news-archive2000.htm
406
0
29
/html/common/leagues.htm
365
0
30
/html/common/tech.htm
361
0
31
/html/vroc20/gpl11release.htm
361
0
32
/html/common/trouble.htm
358
0
33
/html/common/news-archive2001.htm
357
0
34
/html/common/chats.htm
348
0
35
/html/common/time.htm
326
0
36
/html/common/lists.htm
311
0
37
/html/common/winvroc-options.htm
275
0
38
/html/vroc10/tech.htm
274
0
39
/html/vroc20/devnotes.htm
266
0
40
/html/commom/help.htm
1
1
Subtotals
75,662
9,706
121
Others
6,001
2,944
Average
507
78
161
Totals
81,663
12,650

Help Card: Entry Pages
| | |
| --- | --- |
| | This report shows the pages on which visitors entered your site. Use this information to gauge whether your intended entry pages are actually fulfilling their role. If not, you may need to restructure your site. You can also find out if certain pages are being bookmarked (i.e. they can't normally be accessed other than through your main pages), which may indicate particular topics of interest that you need to propagate elsewhere in the site, or that should be moved to your intended entry pages. |
Vertical axis: Pages.
Name of the page at which visitors enter your site.

Horizontal axis: First Sessions.
Number of hits regarded as entries.


Pages:
Name of the page being analyzed. The directory path shown is from the document root ("/") of your webserver. Click the hyperlink to view the page (note: for these links to work, you must specify your default hostname in Settings > Analysis > Options > URL > Default host.

Times entered on:
The number of times visitors entered your site at the corresponding page.

Errors:
Number of errors generated as a result of all hits to the corresponding page (this includes when the page was not an actual entry page, explaining instances where the number of errors exceeds the number of "times entered on").


Copyright © Quest Software , 1997-2002